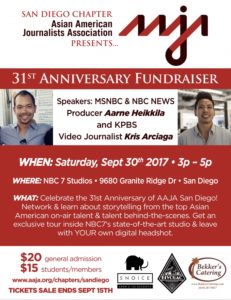 GET TICKETS: https://www.eventbrite.com/e/aajasd-31st-anniversary-fundraiser-tickets-37219786383
Celebrate the 31st Anniversary of AAJA San Diego!
Our special speakers this year include MSNBC & NBC News producer Aarne Heikkila and KPBS photojournalist Kris Arciaga.
Network and learn about storytelling from top Asian American talent who work on-air and behind-the-scenes.
Get an exclusive tour inside NBC 7's state-of-the-art studio and leave with YOUR own digital headshot.
Your donations support AAJA's non-profit programs and scholarships that help Asian American & minority journalists advance their careers in TV, radio, print and digital news in San Diego and across the country.
WHEN: Saturday, Sept. 30 @ 3-5PM
WHERE: NBC 7 Studios (9680 Granite Ridge Drive, San Diego, CA 92123)
There will be RAFFLE PRIZES and FREE FOOD provided by:
'Snoice' SD (http://snoicesd.com)
Bekker's Catering (http://www.bekkerscatering.com)
Bivouac Ciderworks (http://www.bivouaccider.com/)
$20– General admission
$15– Students/members
**PLEASE NOTE WE SOLD OUT EARLY LAST YEAR. TICKETS SALES END SEPTEMBER 15th DUE TO NBC7 SECURITY REQUIREMENTS.**
We hope to see you there!