Join #AAJASD and other journalism organizations across San Diego at our joint Holiday Mixer!
The event is sponsored by AAJA San Diego,  NAHJSDTJ, ONA, NATASPSW, SDABJ, SD SPJ and the SD Press Club. 
That means YOUR admission and your food are FREE!
We can't wait to see you Monday, December 12th from 6-8:30 PM at Athens Market Taverna!
109 W. F Street, San Diego, CA
Happy Holidays!
RSVP HERE: https://www.facebook.com/events/203191076798334/
———————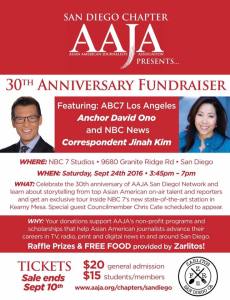 What: AAJA San Diego is celebrating 30 years!
When: Sat. September 24, 2016 | 3:45-7 p.m.
Where: NBC 7- 9680 Granite Ridge Road, San Diego, CA
Tickets: $20 general admission | $15 students/AAJA Members and journalism organization members | Reserve your ticket today via Eventbrite 
Who: Network and hear from ABC7 LA's David Ono, NBC News' Jinah Kim, San Diego City Councilman Chris Cate, and your favorite AAJA members
Why: Your donations suport AAJA's non-profit programs and scholarships that help Asian American journalists advance their careers in TV, radio, print and digital news in and around San Diego.
—————————————————————————–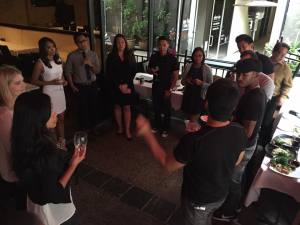 API Mega Mixer
MARK YOUR CALENDARS!
#AAJASD co-presenting this month's API Mega Mixer on Thursday, May 19. That means AAJA members qualify for a discount attendance price ($15).
When buying tickets, make sure you select this option: "NAAAP Member or Co-Presenting Partner" and then list AAJA on the next page. Tickets:https://www.eventbrite.com/e/api-mega-mixer-tickets-2461457…
More details: In honor of Asian Pacific Heritage Month we invite you to join fellow San Diego API organizations for a special mixer dedicated to creating connections and strengthening collaboration in the local community. A special menu of delicious appetizers will be provided by Emerald Chinese Cuisine in addition to a fun-filled program throughout the night.
Give us a heads-up if you plan on attending! Would love to connect!
—————————————————————————————————————————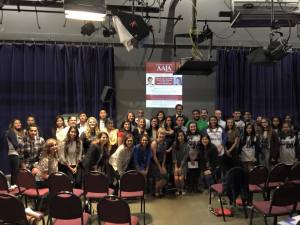 Crafting The Story 
#AAJASD hosted its first annual fundraiser "Crafting The Story" event featuring ABC7 Los Angeles Eyewitness News Reporter Elex Michaelson and NBC News producer Jody Hammond.
More than 50 students, aspiring journalists and working professionals packed ABC 10 News KGTV Studios to pick the brains of the best journalists in the business on the art-of-storytelling!
Elex and Jody presented clips of their recent and award-winning work to the audience then answered questions from the crowd as well as the moderator NBC7 Reporter Liberty Zabala.
The event helped raise funds for #AAJASD programs and scholarships to help Asian American journalists advance their careers in TV, Radio, Print, Digital Media and more.
Special thanks to J&M Catering (https://www.facebook.com/J-M-Catering-1092434897439235/) for providing delicious poke tacos for all the guest and Nestle Toll House Cafe in Chula Vista (https://www.facebook.com/Nestle-Toll-House-Cafe-170012659715110/?fref=ts) for providing guests with cookie treats.
If you'd like to be involved be sure to send us your contact information at sandiego.aaja@gmail.com.
Be sure to look out for the next #AAJASD event coming this September/October 2016!